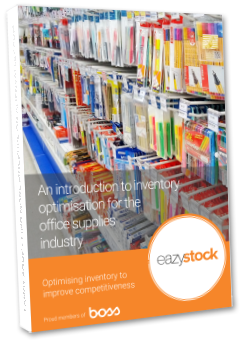 Stock availability is critical for any office supplies business. Whether you're a manufacturer, wholesaler, reseller or retailer, it's imperative that you have the products in stock to fulfil every order.
With customers buying online, expecting same or next day deliveries and looking for depth of choice, you need to ensure product availability to keep them coming back, time and again.
But how can you fulfil every order without tying up too much capital in surplus stock?
The answer lies in inventory optimisation.
Download our eBook to find out:
Why it's critical to optimise your inventory management practices.
The difference between basic inventory management and inventory optimisation.
The 3 fundamental elements of inventory optimisation: statistical demand forecasting, advanced inventory polices and efficient order management.
Fill out the form to download your eBook!