Are you looking to improve stock availability? Do you need to release cash tied-up in excess inventory?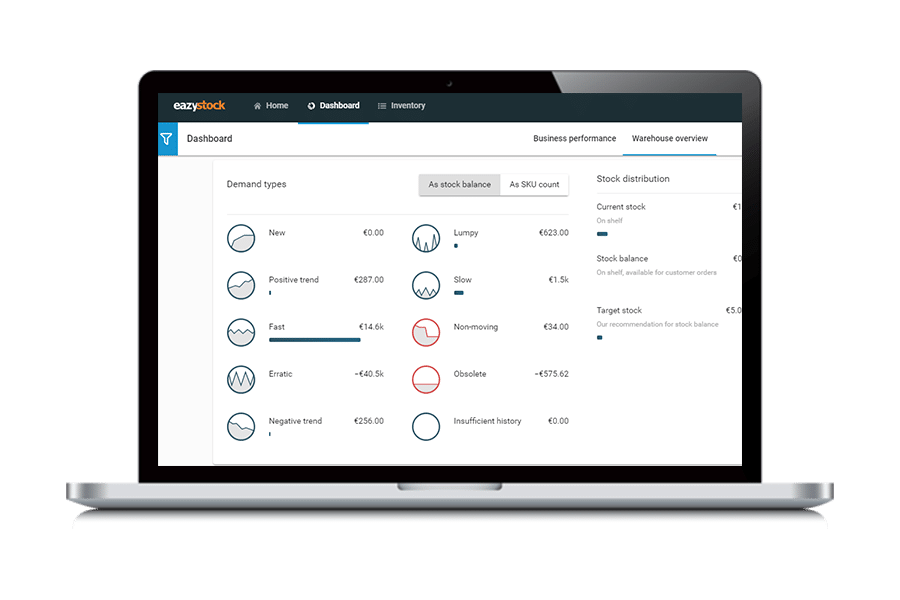 Let EazyStock experts analyse your inventory data and show you how it's possible.
As part of our stock health analysis service, we'll analyse your inventory data and provide and executive report that includes:
An expert assessment of the health of your inventory and future potential
Understand which stock items to carry to optimise service levels (fulfilment rates) and where you can cut back investment.

A profile of your sales volumes according to sales pattern
Find out what products drive your sales and understand which inventory items are seeing a growth in demand and those where sales are declining.
Discover items most at risk of running out in the near future (based on forecasts and trends), helping prevent stock-outs, unhappy customers and lost sales.
Identify 'non-obsolete' excess stock items that threaten to eat away at your cash flow. You can then take action before they become obsolete.
Your personalised target service level curve
See what service levels (or fulfilment rates) you should be achieving, based on your current inventory investment.
(We'll simply provide our recommendations - there's no obligation to purchase EazyStock.)
Request your stock health analysis today...