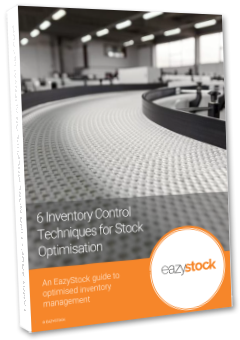 When customers come to EazyStock they often have the same inventory control issues:
High backorders/stockouts of in-demand products
Too much stock of slow moving items
Erratic demand and poor forecasting capabilities
Here are 6 inventory control techniques to help you optimise your stock and help you eliminate or, at the very least, reduce the recurrence of these issues.
In this eBook we show you how to improve your inventory control procedures with 6 simple tips.
We also provide stock optimisation strategies for finding the right balance between inventory levels and product availability.
Topics include:
How to establish a stocking policy and set annual inventory control budgets
The benefits of automated inventory control systems
How to optimise purchasing and replenishment
Optimising stock levels across multi-sites
Fill out the form to download your eBook!