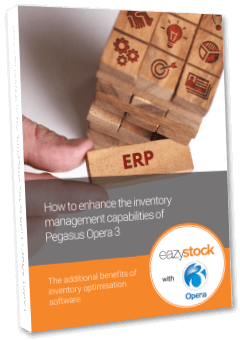 Do you use Pegasus Opera 3 to order and record stock movements, but wished it had better forecasting, inventory planning and ordering functionality?
In this eBook we review Opera 3's inventory management capabilities. We then look at how EazyStock can add an additional level of sophistication to allow you to:
Automate demand forecasting.
Calculate optimum stock levels to reduce cash tied-up in excess or obsolete items.
Eliminate time spent manually updating minimum stock quantities, reorder levels and reorder quantities.
Improve stock availability and prevent lost sales.
Deal with irregular supplier lead times.
Fill out the form to download your eBook!