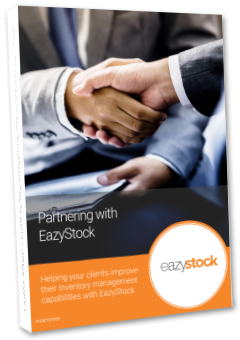 More and more ERP resellers are looking for ways to help their clients get maximum value from their business systems and processes.
One area where you can add value is supply chain management.
To stay competitive, your customers need to find ways to make their supply chains more resilient and agile, so they can face the challenges that lie ahead whilst taking advantage of market opportunities.
While most ERPs offer good inventory management functionality, only a few provide inventory optimisation capabilities – and they're basic at best.
Discover how EazyStock inventory optimisation software can be integrated with existing ERPs to offer your customers a more advanced solution.
Find out how you can partner with EazyStock to help them improve their stock management capabilities by automating their inventory forecasting, planning and reordering.
Fill out the form to download your eBook!